My husband, John, and I were invited by our friends, Liz and Bryan Powers, to accompany them with their two sons to visit Elsa Willis at the Maranatha Medical Ministries in Honduras. We are so glad we went.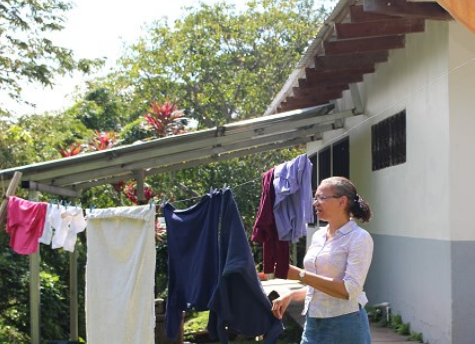 M.M.M. is located in the hills of a village called La Zona, near the small town of Santa Barbara. Elsa and her husband Joe began this ministry about 18 years ago when they responded to the devastation of Hurricane Mitch in 1997/8 by soliciting donations of drinking water, food, and survival supplies for the stranded villagers in these flooded areas.
Joe traveled here, and in spite of flooded roads and no reliable communications, managed to deliver these provisions to the stranded villagers.
Upon seeing the great need there, Joe and Elsa believed that God was calling them to a longer term commitment.
After much prayer and planning, they left their jobs, sold their possessions, and brought all of their proceeds to La Zona and purchased a plot of land nestled in a hillside near the end of the village.
With God's blessings they founded the outpost, Maranatha Medical Ministries. This ministry has flourished as it has been a help to all around. Every family in the town has come to M.M.M.'s natural remedies clinic for consultation and treatment of various illnesses from Dona Elsa, as she is lovingly called. Because of these close relationships, Elsa knows every member of the community and their needs. Elsa addresses each young person as "hijo," or "hija," with patience, love, and a smile.
As she slowly drives down the rutted roads, she calls out to the people who are nearby and often stops to chat or listen before we travel on. God's simple remedies… such as understanding the importance of cleanliness, drinking plenty of water, avoiding stimulants like coffee and tobacco, shunning alcoholic drinks, and adding a variety of fresh fruits and vegetables to the diet, are faithfully taught.
Many who are willing to change find that their lifestyles thrive.
Even for those whom Elsa recognized had sought help too late to regain health, she still has invited them to the outpost in order to provide a peaceful environment and to help ensure that they could make peace with God before they were laid to rest.
As the villagers' physical needs were met, some of the villagers wanted to know why M.M.M. cared so much; over time M.M.M. has started three church groups.
Today, a restaurant in the heart of Santa Barbara offers fresh, completely plant-based meals such as vegetable tacos, pizza, soups, cookies and breads, and non-dairy milk. Because of the calm atmosphere, delicious food and caring staff, the restaurant has a sizable and loyal clientele from all walks of life.
Because it's goal is to share the Good News, the restaurant also offers free health consultations, healthy cooking classes, and Bible studies to its customers. M.M.M.'s small farm grows organic lettuce for grocery stores in the large city of San Pedro Sula two hours away.
It is quite an industry, giving the young men in the church a means of supporting themselves.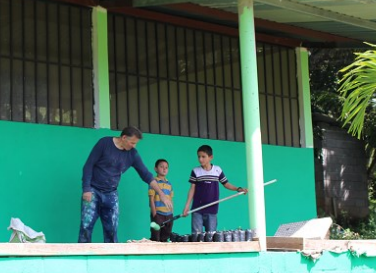 As a paint contractor, my husband John resurfaced and painted the walls of the M.M.M. school with new bright walls for the students when they begin school in a few weeks. I've been happy to help wherever I was needed, whether it was to help with dish washing, packing organic lettuce or kale, or preparing meals.
Food is much more flavorful and healthy when it is freshly made with our own hands. Joana and her mother, Elena, showed me how to make delicious arepas from scratch—from grinding the soaked maize (corn) kernels and yucca in a hand mill, mixing the seasonings, and kneading everything together before spreading out and cutting the thin dough into patties and cooking them on a flat pan on the stove.
We ate good here every day!
Before we began eating, not only do we pray to thank God for the bountiful blessings He has graced our table with, but we've learned to sing a song of thanksgiving—Demos Gracias a Dios por el Pan—before every meal at the Outpost.
M.M.M. is supplied with water piped down from the mountains, solar power, propane, and occasionally firewood supplies some of their other power needs. M.M.M. is a reminder to me to seriously make plans for moving to the country as we watch the religious and civil world steadily tread toward anarchy and disrespect of God's law.
I observe that the people faithfully and enthusiastically come out to church on Wednesday and Friday evenings and Sabbath mornings for singing, prayer, study and worship.
Each Thursday and Sabbath afternoon the M.M.M. staff visit families who want prayer, are experiencing sickness or have lost a loved one. It has been a great blessing to be welcomed into these homes for singing, sharing the love of Christ, and watching the expressions of appreciation on the children and hosts' faces.
What I am seeing is that when we have the joy and love of Christ in our hearts, it will spill out to bless others. What the world is most in need of is people who have a love of the truth as it is in Christ Jesus and a love for people in need.
Written by: Ayaana Shepherd
If you have any questions, comments, or suggestions, you are welcome to leave them below. Thank you and Blessings!