Since 2001, when we opened the doors of La Zona's House of prayer, we have had nine (9) wonderful baptisms, most of which have taken place in the small river behind the church. However, our latest baptism was exceptionally special. Why? Because one of our dear villagers decided to give her heart and life to the Savior.
Lupe is her name. She is a somewhat elderly woman, but don't let her age fool you. She is as spry and energetic as any 20 year old. Before M.M.M. came to minister in Honduras, Lupe was known for being the life of the parties, and of all the Catholic celebrations… until she visited The La Zona House of Prayer.
At first, one could tell that she was skeptical — listening to all of this new doctrine, believing the seventh day to be the true Sabbath, the importance of the health message… Who wouldn't be skeptical?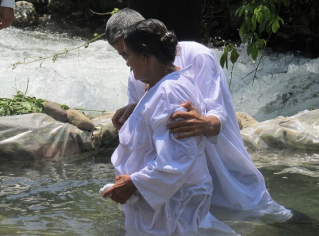 Nevertheless, Lupe continued to attend church services every Sabbath. Weather permitting, Lupe would always manage to walk that long, dusty, and sometimes muddy road, to be one of the first to make it to church. At first her Catholic friends and family would tease her and criticize her for coming to the Adventist church, but Lupe didn't pay them no mind.
Over the years, Lupe has come to know, that the seventh day, is in fact, God's Holy Sabbath Day. I knew that God was working in Lupe's life, because she had begun making noticeable changes in her life. Her diet had changed, and she no longer would go into town to take care of business affairs. God was working the miracle of salvation.
The Holy Spirit was moving upon her heart; convicting her of the truth, and of God's great love for her. So when we prepared for our latest baptism, and the appeal was made… how thrilled I was to see Lupe take her stand for baptism!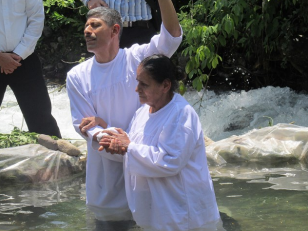 And not long afterwards, we had our 9th baptism. Oh what tears of joy, as we watched Lupe enter the river with Brother Gerbert, who performed the baptism.
I know that all of heaven was rejoicing that Sabbath day. Lupe proudly tells everyone, that's my church, the Seventh-day Adventist church, because that's what the Bible teaches. Her family and friends no longer tease Lupe, but rather have respect for her. She does not know how to read, but she knows truth when she hears it.
Please keep Lupe lifted up in special prayer — another dear soul added to the kingdom of heaven.
"Whenever possible, let baptism be administered in a clear lake or running stream. And give to the occasion all the importance and solemnity that can be brought into it. At such a service angels of God are always present."
6T 97.2