The "story" behind M.M.M.
In 1997, God directed Joe and Elsa Willis in the establishment of Maranatha Medical Ministries (M.M.M). Not long after they began their ministry, Hurricanes George and Mitch devastated several Caribbean countries.
The Willis's chose to focus their attentions on Honduras, one of the poorest countries in Central America.
Immediately the appeal went out for help, and within just a couple of weeks, tons of food, water, clothes and medical supplies had been donated by individuals, church organizations, and large companies such as Wal-Mart, Chiquita Banana Company, and Coca Cola Bottling Company. White Fleet Shipping Company provided transportation of the supplies… All free of charge.
And here is why they continue to help people…
M.M.M. and a thirteen member team flew to Honduras and began their work. From early morning to late evening, the M.M.M. team attended to the needs of the "poorest of the poor".
The work continued for several weeks. Returning to the U.S.A., Joe and Elsa realized they could not return to the life of ease and comfort while thousands in Honduras were suffering under the bondage of poverty.
After much prayer, they decided to return to Honduras and establish a missionary outpost in the mountains of Santa Barbara, where they could live among the poor and do the work they've dedicated their lives to — medical missionary work.
Their current projects…
Today, Maranatha Medical Ministries has a modest health clinic, a multi-grade elementary school (Maranatha Institute of Christian Education), a beautiful House of Prayer, and a unique vegetarian restaurant and bakery (La Canasta de Vida Restaurant & Bakery).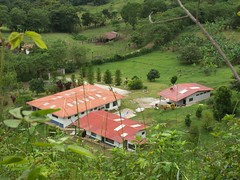 In choosing men and women for His service, God does not ask whether they possess worldly wealth, learning, or eloquence. He asks, "Do they walk in such humility that I can teach them My way? Can I put My word into their lips? Will they represent Me?"
Testimonies, vol. 7, p. 144
God loves you with an everlasting and unconditional
 love. He will never leave you, nor forsake you. Draw
 nigh to Him, and He will draw nigh to you.