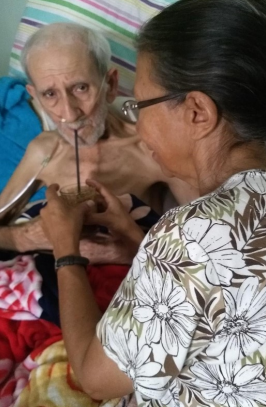 Dear friends, this has been such a busy year, because we've had an influx of patients coming to the outpost for treatments, literally none stop. We do not advertise, but word of mouth goes out that "people are being healed". When they call from the big cities like Tegucigalpa and San Pedro Sula, we make it clear that there are no doctors or nurses here, that we depend on the Great Physician and the knowledge He has given us.
I wish I could tell the story of each patient, but here are a few of their faces, and yes God does perform miracles in their bodies, but most of all their souls.
God designs that our sanitariums shall be a means of reaching high and low, rich and poor. They are to be so conducted that by their work attention may be called to the message God has sent to the world.

CCh 309.3; CPI.561.3
Our sanitariums are one of the most successful means of reaching all classes of people. Christ is no longer in this world in person, to go through our cities and towns and villages healing the sick. He has commissioned us to carry forward the medical missionary work that He began, and in this work we are to do our very best. Institutions for the care of the sick are to be established, where men and women may be placed under the care of God-fearing medical missionaries and be treated without drugs. To these institutions will come those who have brought disease on themselves by improper habits of eating and drinking. These are to be taught the principles of healthful living.

CH 212.1; CSI.209.1
If you have any questions or comments, do leave them below. Thank you!