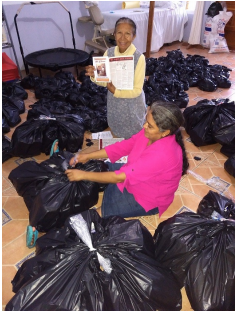 Ministry Matters – November 2020
My dear M.M.M. family,
I'm finishing this newsletter while America is celebrating Thanksgiving Day. I too want to give thanks to my heavenly father for preserving our lives in the midst of the disaster. I also thank Him for each one of you. Even though we could not be in contact throughout this troublesome year, I was confident of your prayers in behalf of Honduras and this outpost here in the mountain village of La Zona. Thank you for remembering us!
Many of you have asked how you can help at this time of disaster here in Honduras. Well, friends the needs are many, and the people in our village will remain in need of much needed supplies and assistance for many days and months to come.
During this emergency, I realized that our outpost clinic needs to have more tarps, mattresses, beddings, flashlights, plastic ponchos, and of course medical supplies.
Our desire is to be able to assist the poor families that lost everything. They lost homes and all they owned — pots, pans, beds, and all household items.
We also want to assist them in the purchase of construction materials and the things that they need in order to have a home again.
If you would like to help and assist these disaster victims, please mark it on the memo of your donation so that when it is received, it will be sent immediately to Honduras for that purpose.
M.M.M. will continue to provide assistance, food, shelter and medical care for all who are in need at this time. This assistance will continue for sometime to come.
I want to thank you once again for all of your prayers and support for
M.M.M. and our ministry. May God bless you and keep you safe during this crisis time.