Ministry Matters – January 2018
It is always a blessing to be able to finish a newsletter, and give you at least a few highlights of what is happening with this ministry.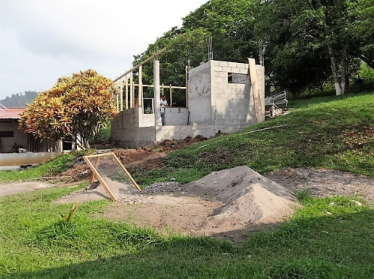 Because of the increase in the number of, and different classes of patients, we are working on improving the dormitories. We are almost finished with the construction of a cabin, (photo on the right) which can be used for our volunteers, thus leaving the dormitories free for the patients.
There is no Home Depot here in Honduras, and the price of materials has sky rocketed, but thanks to God and your donations, we can continue making the much needed improvements.
Although the Lord has blest us with many volunteers here at the outpost, we still have several ministerial needs.
1. A teacher for Maranatha Institute of Christian Education (M.I.C.E) for the upcoming school year which begins the last week of February, 2018. (Preferably a male teacher, because most of the students are boys.)
2. Someone that would like to work on a website for M.M.M. (This need is currently filled.)
3. A mature couple with a desire to serve those in need and to help out with the multifaceted needs of the outpost and the ministry.
Once again, I want to THANK YOU, my dear M.M.M. family, for all your prayers and support. A SPECIAL
THANKS to those of you who write those little notes of encouragement. They mean so much. May the Lord bless you and strengthen you in this new year.