Oh friends, what a faithful God we serve.
This is one of God's characteristics that I appreciate so much since being in the mission field… His faithfulness! You know Isaiah 58 is the Medical Missionary chapter, and for those who do this work, His promises are sure.
"Then shalt thou call, and the Lord shall answer; thou shalt cry and , and He shall say, Here I Am…"

Isaiah 58.9

Ariel and Johana
And believe me, missionaries call and cry unto the Lord all the time! I know I do. Well, this time the Lord had two
sets of missionaries crying out to Him — Ariel and Johana in Venezuela and me over here in La Zona.
For those who may not remember, Ariel and Johana are the faithful medical missionary couple who tended the
M.M.M. sanitarium in Venezuela. I dare say that they ministered untiringly to hundreds of patients in the five years they worked there.
Those who have kept up with the news know that the economy of Venezuela has deteriorated greatly.
Ariel and Johana didn't know what to do, because they didn't want to leave the sanitarium unattended. But, it got to the point where they could not really get the food and items they needed for treating the people.
They did their best to survive off what they grew there in the finca (property). They said that even if you had the money, you could only buy what they rationed you, and you had to make it last or do without the luxuries of toilet paper, toothpaste, soap and things that some of us could not survive without.
However, even under these hard conditions, they took care of patients up to the last minute.
I almost didn't recognize them at the airport. They were both very thin and looked care worn from carrying a heavy load by themselves there in Venezuela.
Meanwhile, I was in La Zona taking care of new patients every week and trying to manage everything else at the same time. But, the Lord heard our cries and pulled them out of Venezuela just in time before the rioting started… AND just in time to come and help me with all the load of work here in Honduras.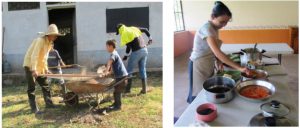 God truly does hear our cries for help. If it wasn't for them, I probably could not have taken the time off to even write this newsletter. They moved right in and Johana took over all the cooking at the outpost, helps with the patients, and teaches the two youngest M.I.C.E… Dany and Jeffrey who are in second grade.
Ariel went right to the garden and works with the little ones in agriculture. They already have several Bible studies going in the afternoons.
Thank God for consecrated workers!
If you have any questions or comments, please do leave them below. God bless you!