Medical Missionary Outreach
"Into whatsoever city ye enter… heal the sick, cleanse the leper, raise the dead, cast out devils: freely ye have received, freely give." Mathew 10:7-8 The doing of medical missionary work brings rays of heavenly brightness to wearied, perplexed, suffering souls. It is as a fountain opened for the way-worn, thirsty traveler. At every work of mercy, every work of love, angels of God are present.

CME P. 25
Thank the Lord for His promises, that angels will accompany us at every visit we make. Sometimes the visits we have to make and the treatments we have to do are not easy, but I'm thankful that I can depend on the great physician to be there directing everything.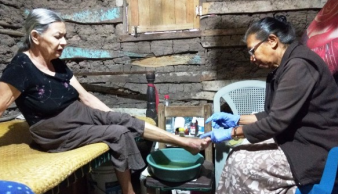 Herminia is one of those patients. She recently had a toe removed due to gangrene. She's a stubborn one, that refused the natural treatments, but now needs us to come and do her cleaning twice a week. But, I know Herminia is a precious soul, whom Jesus died for. So we are happy to help her.
The young man on the right is a restaurant customer who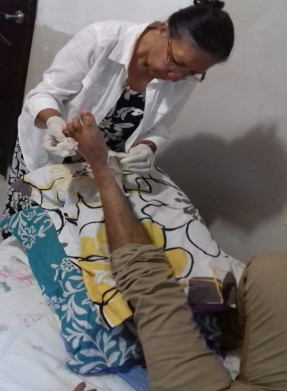 unfortunately received a severe electrical burn that could have been fatal. He kept in touch with Wilson, and we were able to visit and minister to him. We brought him a special burn and wound cream which has been a great help in his healing. His whole family is very grateful.
We need to work with a heart filled with an earnest longing for souls. Do medical missionary work. Thus you will gain access to the hearts of the people. The way will be prepared for more decided proclamation of the truth. You will find that relieving their physical suffering gives an opportunity to minister to their spiritual needs.

CME 7
Don Daniel (below) is 85 years old and lives by himself, so he is always happy to see us. We stop by to take his blood pressure, and he was thrilled with a new shirt we brought him.

Berta lives in El Cerro del Toro, and she says that whenever she is sick or troubled, the Lord sends us by, and it comforts her just to know that someone cares. We plan to help Berta fix a crack on the wall in her home before it falls.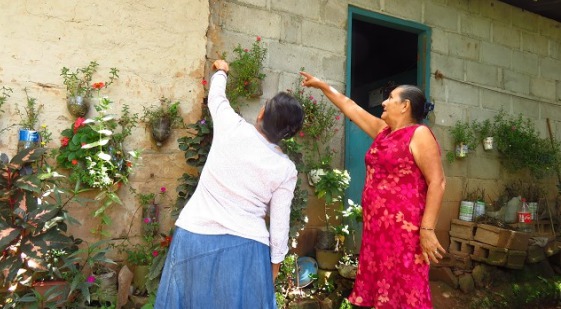 There is need of coming close to the people by personal effort. If less time were given to sermonizing, and more time were spent in personal ministry, greater results would be seen. The poor are to be relieved, the sick cared for, the sorrowing comforted… We are to weep with those that weep, and rejoice with those that rejoice… Accompanied by the power of the love of God, this work cannot be without fruit.

M.H. p.85
Please leave us any questions or comments you have below. You can also send us private messages through our Contact Us tab in the above menu. Thank you!